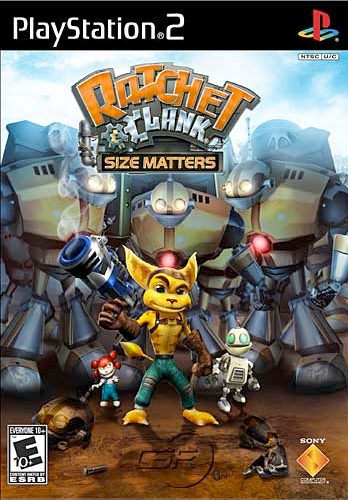 HOORAY!

Everyones favorite space traveling Lombax and his trusty metallic companion are BACK! While not on the PS3 or in hi-def, this Sony exclusive title did so well on the PSP that they ported it over to the Playstation. We broke out the PS2 at The Manor for this.

Below a description of the game from Gamefly (if you don't use them you should):
We should have known Ratchet and Clank couldn't take a day off. While on vacation, they're lured away by the trail of a kidnapped girl. While on the path, they rediscover a race of genius inventors called Technomites. The plot thickens as they delve deeper into a mystery beyond their wildest imaginations. Your favorite weapons are back, along with all-new ones, including the Blitz Cannon, Agents of Doom, and Shrink Ray. Unlock different vehicles to race and combat enemies on huge battlefields and use the customizable armor system to gain upgrades and get through challenging areas!
This entry was posted on 3.17.2008 at 2:36 PM and is filed under
PS3
,
Video Games
. You can follow any responses to this entry through the
comments feed
.