I know you all miss me when I am not here giving it to you up close and ugly but duty calls.
I must prepare decadent and tasty edible bits for a party at my parnters job. Below are pictures of what I am preparing: Cheese Straws and Spinach and Artichoke dip.
If you would like something delicious and visually stunning for your next shindig, get at me. I got you covered.
Spinach and Artichoke Dip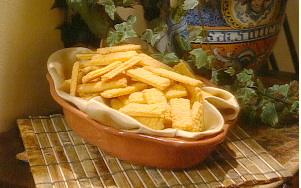 Cheese Straws...
This entry was posted on 3.13.2008 at 9:03 AM . You can follow any responses to this entry through the
comments feed
.